Who doesn't love a little natural sunlight entering into their space? Whether it be you home, office, restaurant, etc., natural sunlight can help create a beautifully well-lit and welcoming atmosphere. The natural sunlight can be a bit uncomfortable at times, however. Especially if it is blaring in and causing sun damage to your floor, furniture and artwork, causing glare, or raising the interior temperature.
Allow the sunrays to gently filter in and lighten your space without any of the adverse effects mentioned above with the following window treatments:
1. Silhouette® Window Shadings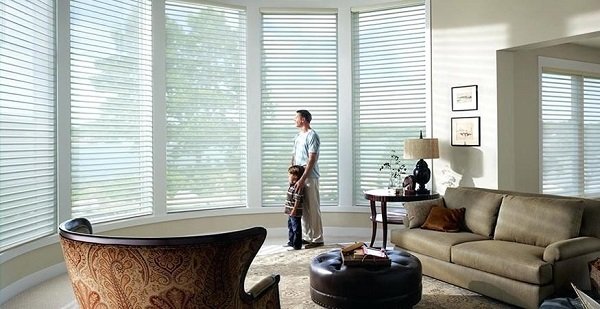 Silhouette window shades are specially crafted to transform harsh sunlight into beautiful ambient light.
Their adjustable S-shaped vanes placed between two sheer fabrics diffuse strong incoming light and creates a soft glow. Much like traditional blinds, these vanes can be tilted to your desire or completely closed to filter light.
The sheer fabrics that hold the vanes provide views of the outside while shielding views to the inside providing enhanced daytime privacy.
Depending on the fabric used, this window treatment solution can filter out up to 88% of the sun's harmful ways.
Ask us about our current promotion on Silhouette® window shades. Offer expires 6/24/2019.
2. Pirouette® Shading Solutions
Similar to Silhoutte® window shades, Pirouette® shading solutions consist of contoured fabric vanes that beautifully "float" on a sheer fabric although the vanes operate differently. Pirouette® vanes can be flattened for enhanced privacy and to block out the sunlight , or "blossomed" to your desired position to gently filter in light and provide views to the outside.
With the vanes opened, these shading solutions help block out 81% of harmful UV rays and 99% when closed.
Pirouette® shadings are available in both semi-opaque and room darkening fabrics, two vane sizes, and a variety of colors for a fully customized solution.
Contact us today to learn more, and to take advantage of our Pirouette® shading solution promotion that expires 6/24/2019.
3.Luminette® Privacy Sheers
Luminette® Privacy Sheers give you the lighting and privacy control of traditional vertical blinds with the beauty and elegance of sheer drapery.
Much like vertical blinds, the vertical vanes rotate to diffuse and disperse the sunrays into soft light. When the vanes are closed, you can enjoy the privacy and look of traditional draperies.
Like the window treatments mentioned above, Luminette® Privacy sheers can protect your floors, furniture and artwork from damaging UV rays.
Ask us about our current promotion on Luminette® Privacy Sheers. Offer expires 6/24/2019.
4. Designer Banded Shades
Designer banded shades consist of alternating sheer and solid fabrics that combine the benefits of room darkening and screen/solar shades in one. With these overlapping vanes, you can adjust them to your preferred level to filter in sunlight and add privacy.
Like traditional shades, they can be raised and offer a completely unobstructed view.
To learn more about our light diffusing window treatments or to schedule your free consultation, contact us today! (212)362-6164 or
[email protected]